Neontra protects your data with bank-level security.
We never store your sensitive data, including passwords or account numbers.
We are:
Certified SOC2 compliant
Audited by BDO Canada
Powered by TXIO technology
We will not:
Share your data
Sell your data
Provide third-party
access to your data
Neontra technology is trusted by our client firms, who are regulated and authorized by IIROC (Canada), SEC (US), FCA (UK) and ESMA (EU). Neontra technology has processed more than 200 million trades since 2013.
Advanced Features
Personalized Insights
Investment Tracking
Personalized Calendar
All Your Data In One Place
Spend Tracking
Goals
Financial Health Check
Budget
Forecast Your Future
Start planning for a better future today.
Evaluate your overall financial wellness
with a simple Neontra scorecard.
Our Health Check provides a personal, simple
easy to understand score with actionable insights.
---
Discover where you stand
Expenses Health
Your ratio of expenses vs income
Savings Health
Your ratio of monthly savings vs monthly income
Credit Card Health
A measure of your available credit
Emergency Funds
How long your savings could sustain your lifestyle
Debt Health
A ratio of your debt to assets
Investments
A measure of your portfolio diversity
Follow every dollar - Track and analyze
your cash flow.
AUTO CATEGORIZATION
Neontra auto-categorizes your transactions so you can quickly see where your money goes.
INCOME & EXPENSES
See how much you have earned and spent in a specified time frame.
COMPLEX TRANSACTIONS
Manage complex transactions — splits, recurring, scheduled.
MULTI-PERIOD
View your cash flow bi-weekly, by month, by quarter or by year.
HISTORICAL
Go back in time to view your historical data, including trends and analysis.
CHARTS
Visualize your cash flow in our powerful, informative charts.
EXPENSE EXPLORER
Analyze your cash flow cumulatively over time, per period, or by type (Essential / Non-Essential / Debt / Savings).
INTEGRATED FORECASTING
View patterns in the past and how they project into the future.
Neontra's proprietary AI analyzes your financial data and then creates
insights and analyses that are personalized for you.
We call them NEOs.
Trends and patterns
Ratios

Compare
Neontra forecasts your financial future.
See how patterns from the past project into the future.
Model and forecast your growth.
Define projected growth rates
& visualize likely scenarios.
---
Map Your Future
Cash Flow
Forecasts predict your income and spending based on past behaviour.
Net Worth
Forecast predicts your Net Worth in the future.
Flexible
If you disagree with a Neontra forecast, simply create your own.
Learn
Where you will stand at the end of the month/quarter/year or 30 years into the future.
Assets
Define min and max growth rates.
Liabilities
Test pay-off scenarios to learn the best way to manage debt over time.
Neontra makes it easy to create and manage a budget,
so you can spend less time worrying about your money.
Targets
Set budget targets per category, or use the target forecasted by Neontra based on your past behaviour.
Track
Our Spending Tracker app helps you monitor your progress relative to targets.
Multi-period
View your budget performance bi-weekly, by month, by quarter or by year.
Historical
Learn from the past and go back in time to view your past budget performance.
Our free budget app
helps you start building a better future today.
Create as many goals as you like
Goals may be one-time (vacation) or recurring (funding your retirement)
Fund your goals using all of your financial assets, not just bank accounts and investments
Map your assets to the funding of multiple goals based on goal priority
Set goals and track your progress over time.
Neontra aggregates and tracks all your investments in one place.
Measure your performance over time.
Forecast growth scenarios.
Build and test your strategies with a fully-functional trading simulator, including stocks, metals, crypto and FX.
Learn about investing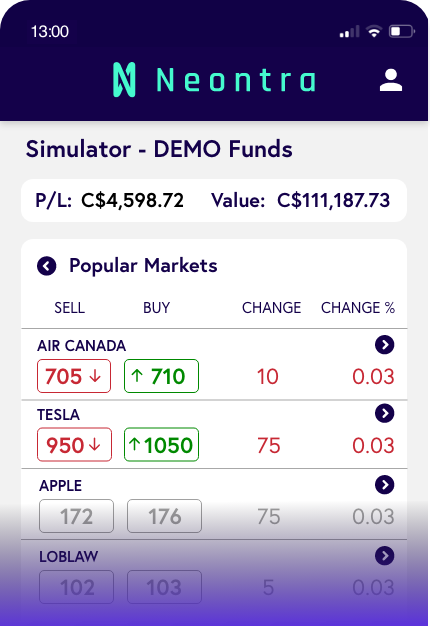 Take your first steps into the investment world without risking losing any money.
Build a virtual portfolio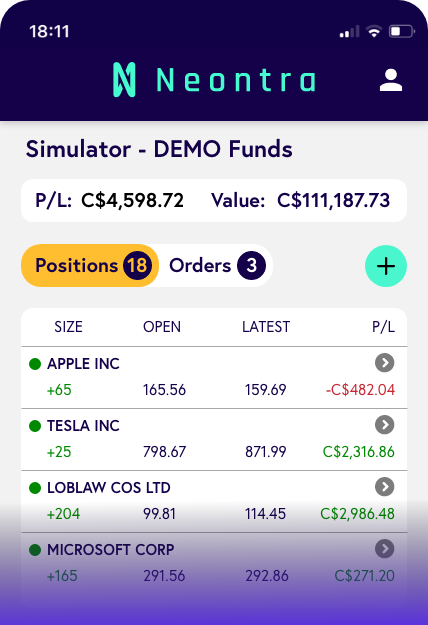 Monitor thousands of stocks, funds, ETFs and currencies.
Market news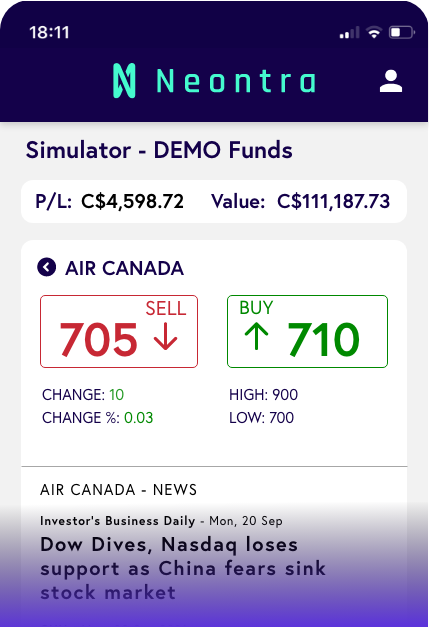 Market news to help you research the markets.
Charting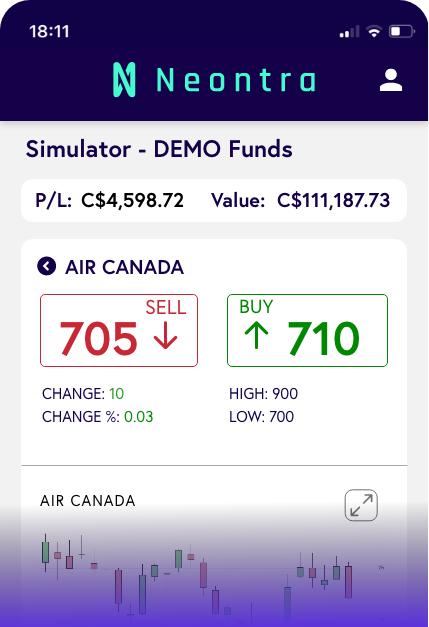 Technical analysis with advanced charting to monitor, plot and study market trends.
Customize watch lists to help you follow the markets — news, quotes, charts and corporate actions.
Learn to invest risk-free.
Use Neontra's financial calendar
to easily map your day-to-day transactions.
Track
See all your spending visualized by day, week and month with one tap
Money Management
View transactions across all your cards and accounts in one place
Learn
Identify time-based trends and patterns in your spending
Connect accounts to automatically import data
or manually upload.
The route to a happy, secure financial future is hard to navigate.
Neontra can help guide you there.